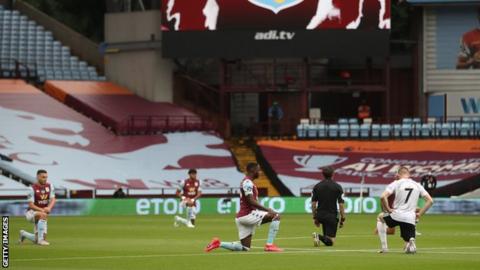 Aston Villa and Sheffield United's players took a knee in support of the Black Lives Matter movement immediately following the whistle to kick-off the first Premier League game of the restarted season.
Referee Michael Oliver blew the whistle before also taking a knee on the pitch.
Villa's players and staff wore black shirts with the words 'Black Lives Matter' on in the warm-up.
A black banner was also on display at Villa Park during the match.
A joint statement issued by both clubs shortly after kick-off said they "were proud to stand in solidarity" with the actions of their players and coaching staff in "expressing our collective support for the Black Lives Matter movement."
Both clubs also said they hoped that the act of 'taking a knee' will "send a strong message of unity and amplify the many messages of support from Premier League players and the wider football family".
The Premier League announced their support for the movement for racial equality following the death of George Floyd in the United States which sparked protests worldwide.
Players' names will be replaced on the back of their shirts with the words 'Black Lives Matter' in all of the first 12 matches of the restarted Premier League season.
A 'Black Lives Matter' badge will also feature on all playing shirts for the rest of the season.
Source: www.bbcsport.com