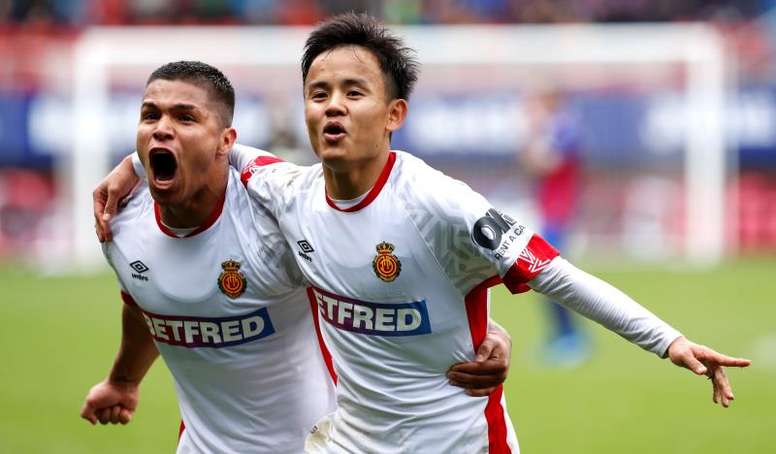 Real Madrid player Takefusa Kubo, gave an interview to 'France Football' in which he analyzed his current performances and how he sees his career up to now. He also made clear that playing for Real Madrid was always his goal despite starting off at Barcelona.
Kubo has broken Barcelona fans' hearts. He began at La Masia, but he did so thinking about Real Madrid. He himself admitted it in an interview with 'France Football'. He said that his dream was always to put on the Real Madrid shirt.
"My dream has always been to become one of the best players and I'll not stop working to achieve that. I've always said that my aim was to play for Real Madrid. That is what I'm working towards and I'm doing the best I can. I like being able to play football in one of the best leagues in the world," he said. 
On his time at Mallorca on loan, he said: "The club have made me grow as a player and also as a person. I've left behind very good friends with whom I've shared good and bad moments and I've always noted the affection of the people from the island. It was an unforgettable seasons in many ways."
"I like receiving the ball in between the lines or in the middle, where there are more people, then try and be decisive. My dribbling technique is everything I've learnt playing football up to now and, as I've got a lot of years ahead of me, I've got a lot of room for improvement," he added.
"When I was small, I used to play football a lot, from eight in the morning until sunset. I never got tired of it. It's my passion and football has been a large part of my life since I was a kid. I play football with the only intention of improving," Kubo said.
And he concluded speaking about how timid he seems from ouside, completely denying that is how he is on the field of play. "But, on the field of play, I'm never timid. A player must express himself on the pitch. Being timid on the field of play does not make you grow more. You speak on the field of play with your play."