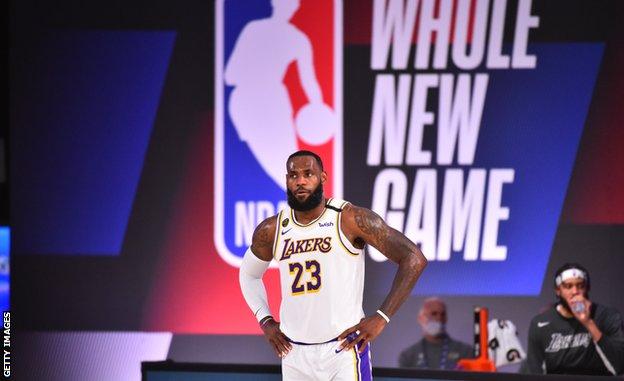 When fans tuned in as the NBA season resumed at Disney World on Thursday, they were watching a game with a different feel.
On gleaming courts refashioned from ballrooms, in a basketball 'bubble' protected from coronavirus at the Florida resort, three words were stenciled alongside the enormous NBA logo: 'Black Lives Matter'.
Jerseys ordinarily emblazoned with well-known surnames – prized products sold to fans around the world – instead carried activist slogans: 'Justice Now', 'See Us', 'Hear Us', 'Respect Us', 'Love Us'.
The stands were empty and silent, but one message is already echoing loudly: the NBA wants to talk about racism.
Even before the shocking death of George Floyd triggered a national reckoning, the sport had long been a vehicle for protesting against what has been called America's Original Sin.
Big moments – like the raising of a fist by Tommie Smith and John Carlos in a black power salute as the 'Star-Spangled Banner' played at the 1968 Olympics – have become iconic images.
More recent gestures, like those sparked by Colin Kaepernick's refusal to stand for the national anthem, have become a contentious point of political debate in the United States.
Race, as the respected San Antonio Spurs coach Gregg Popovich puts it, is the "elephant in the room in our country" – one that has come charging into the locker room on many occasions.
Of all sports, basketball is arguably the most obvious place for an unvarnished conversation.
From its earliest days of being popularised as entertainment by the Harlem Globetrotters to a sport still primarily played by black athletes and, in the US, watched largely by ethnic minority fans (two-thirds of those who tuned in during 2016-17 on US TV were non-white), race has figured prominently in the NBA.
The league says it will embrace the conversation head-on this time. But will it be any different than in the past – and will it make a difference?
Black players have always been aware of the thin line that separates them from a life of professional success and a far different fate.
As the youngest of three sons of a single mother growing up in inner-city Philadelphia, Rasheed Wallace realized early that it would be hard going, as did everyone around him.
"The stakes are high, the stakes are real high," Wallace – who played for 2004 champions the Detroit Pistons – tells the BBC. Growing up poor and with few opportunities, sports are one of the few ways young black men, especially, can conceive of success.
"You see a lot of black parents getting on their kids, no matter [whether] it's football, basketball, baseball or any sport. It's like, 'look – this could be our ticket out of here'," he says.
"There's a standard you have to live up to. And for us, being black kids in the ghetto, we know that. That if I can make it, I got a chance to make it better for my family."
But that success does not change how the world views a black man when he is out of team uniform, Wallace believes.
Source: www.bbcsport.com