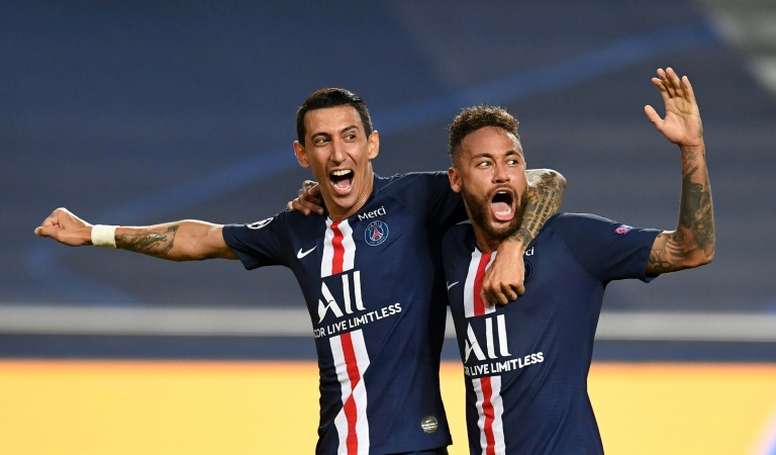 An inspired Neymar helped Paris Saint-Germain reach the Champions League final on Tuesday, but the fact that the Brazilian was not their best player against RB Leipzig says everything about the frightening strength of Thomas Tuchel's team and shows why they can be confident of lifting the trophy for the first time.
Neymar has become a different player in his third year in the French capital. His first two seasons at PSG following his 222 million-euro ($264m) transfer from Barcelona were blighted by injuries and constant speculation about a move back to Camp Nou.
After scoring in both legs against Borussia Dortmund in the last 16, just before the coronavirus brought football to a halt, he was outstanding in the 2-1 quarter-final win over Atalanta last week in Lisbon and even better in the 3-0 demolition of Leipzig.
Neymar hit the post twice in the first half, including from an audacious free-kick wide out on the right as everyone waited for a cross.
The 28-year-old won the free-kick which led to Marquinhos's opener, and it was his flick which set up Angel Di Maria for the second goal, ensuring it was game over by half-time before Juan Bernat sealed the win.
The only thing missing was a goal of his own.
"What can I say to Neymar to help him score a goal when I scored maybe two in my career," joked Tuchel.
"He scores in training, but he is playing exceptionally well, he is so, so strong. He has a winning mentality, a hunger to win, and to show he is capable of being the best player in the world.
"If he scores in the final then I'll be happy."
Neymar later posted a picture on Instagram of himself lying on the ground in agony, a reminder of his bad luck with injuries in his first two seasons after arriving in Paris for that world record fee in 2017, which has clearly made him even more determined to succeed now.
"Today I am in one piece, with no injuries, able to help my teammates in the best possible way," he wrote.
Source: www.besoccer.com