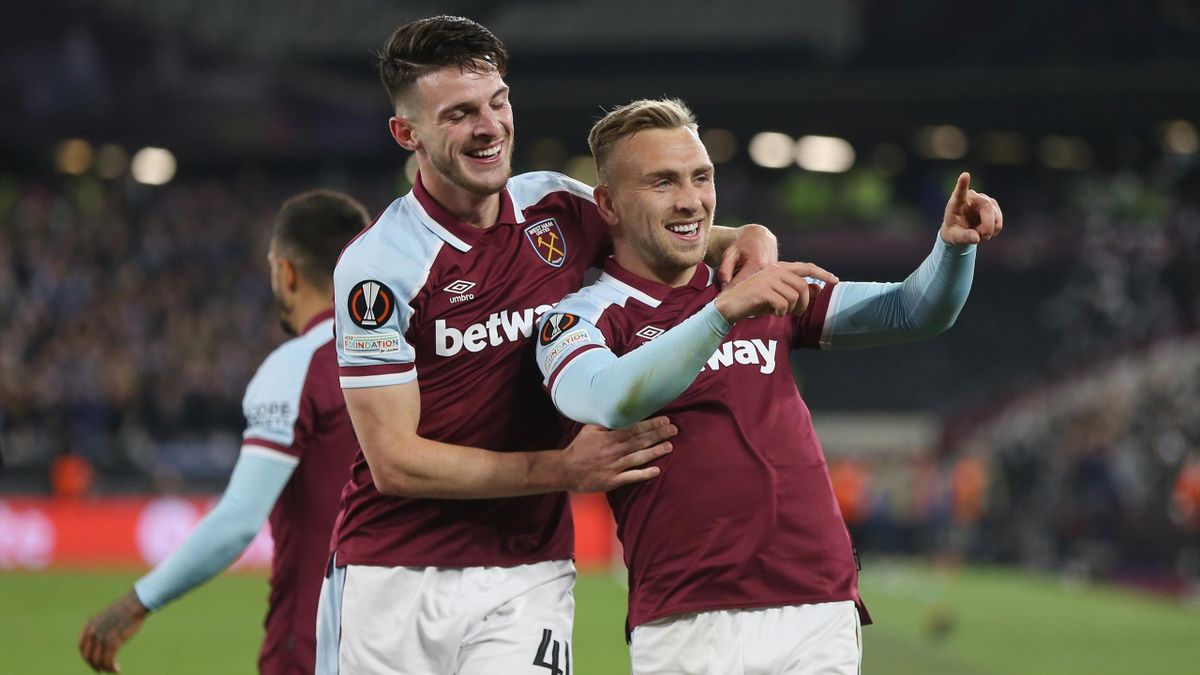 West Ham United's Jarrod Bowen celebrates scoring his side's third goal with Declan Rice during the UEFA Europa League group H match between West Ham United and KRC Genk at Olympic Stadium on October 21, 2021 in London, United Kingdom
We'll level with you, West Ham fans. We're feeling a little disappointed. Three games into this European adventure and it's all been far too competent. A good away win in Zagreb, and now back to back home wins, all without even conceding a goal? Where's the comedy in that?
Of course, it's possible that England's proud and historic football teams don't just exist for the Warm-Up's amusement. We don't like admitting this, obviously, but sometimes we wonder.Anyway, West Ham's win over Genk wasn't spectacular, but then "spectacular" isn't a group stage word. Save the flashy stuff for the knockouts. Group stages are about careful navigation and balance: refreshing the squad without breaking the team; winning the midweek without forfeiting the weekend. And West Ham are strolling through this one like they've been strolling through European group stages for years.
A goal just before half time, right in the proverbial "good time to score"; two more rattled in on the hour, just as the game threatened to get nervy. It's all quietly impressive. And Michail Antonio got a full evening's rest ahead of Spurs at the weekend. Everything's coming up Moyesie.
Every other team in Group H has won one, lost two, which gives West Ham a massive six point gap at the top. One more point should see them through, and Moyes, clearly feeling rather pleased with how things are going, is injecting the adventure with some old-fashioned We're Off To The Continent energy.
In a turbulent world going through turbulent times, it's heart-warming to know that some people will always come through. They will be there when you need them, they will be themselves when you need them to be themselves. Imagine if Roma had lost 6-1 — 6-1! — to Bodø/Glimt and José Mourinho hadn't immediately thrown his entire side under the nearest bus. How strange we would all feel today, how unmoored.
Luckily for us, though not perhaps for Roma's squad players, it is simply in his nature. Connoisseurs of the Mourinho method will have been thrilled by the traditional opening, in which he appears to gather all responsibility to himself