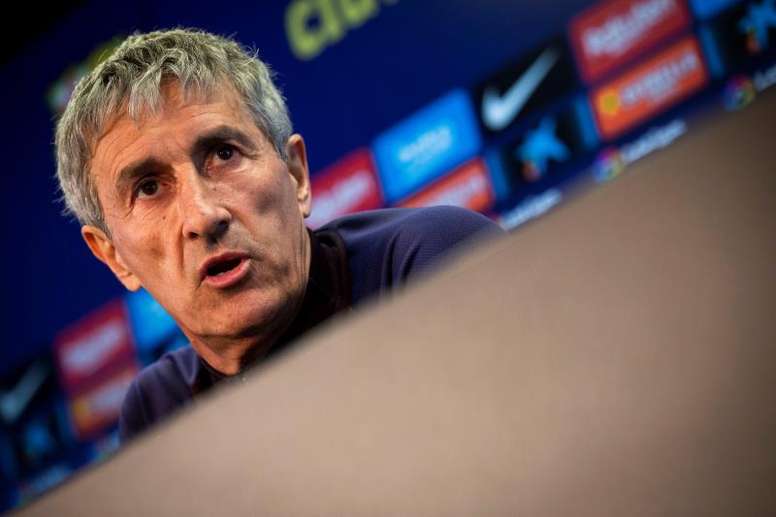 Barcelona will host Leganés in the Camp Nou on Tuesday 16 June, the team's second match after LaLiga's return after the halt in sport due to the coronavirus pandemic. 
For this reason, Quique Setién gave a new virtual press conference, in which he was able to analyze the rival and evaluate the great 4-0 victory against Mallorca last Saturday.
The coach started out talking about the next rivals: "It could be a difficult match because for Leganés it is one of their opportunities to score points. But we are aware that we need to add goals of our own to keep the distance. It will be difficult for us to overcome that."
As for the changes made to the team, he explained: "The idea is to keep making changes. To make changes as the games go by. We'll see how the championship evolves and make sure all our players are still fresh".
He was also questioned about the importance of Antoine Griezmann in the team: "Griezmann is an indisputable starter. He has played almost every match. Now there are more players and we have to share out the minutes. Everyone is different and we will see how the championship evolves and the needs we have. He is a tremendously important player for this team and this club".
On Leo Messi's physical level, he said: "It's good. Not only must we value that he has so many goals, but all the other contributions he makes. The other day he gave two assists again. He is very important to us because he helps us constantly. He's scored 700 goals and more. That's why he is the best player in the world and we are lucky that he helps us."
Setién also made it clear that he will miss the fans at the Camp Nou: "I don't know to what extent he can affect us. We'd prefer to be with an audience, but we know that won't be possible and we have to adapt. Let's hope it doesn't affect us and that we can play a good game and win. Playing on empty pitches you lose the essence of football, but it's what you have to do and you have to adapt.
He also commented on Luis Suarez's delicate situation: "Luis might be a little slower than usual, but it's a circumstance that can happen and if it's not now, it will happen at some point. We have enough reinforcements to play in his place. We can't control it and it will come when it comes. Barça has other players in the team."
"I have not yet decided if he will be a starter. It's an option. I have to talk to him. He could be a starter or come off the bench. We have to be careful. We have to take care of his injuries. Any problem must be solved because I would not like to lose a player four games for not resting one," he added about the Uruguayan. 
Source: www.besoccer.com